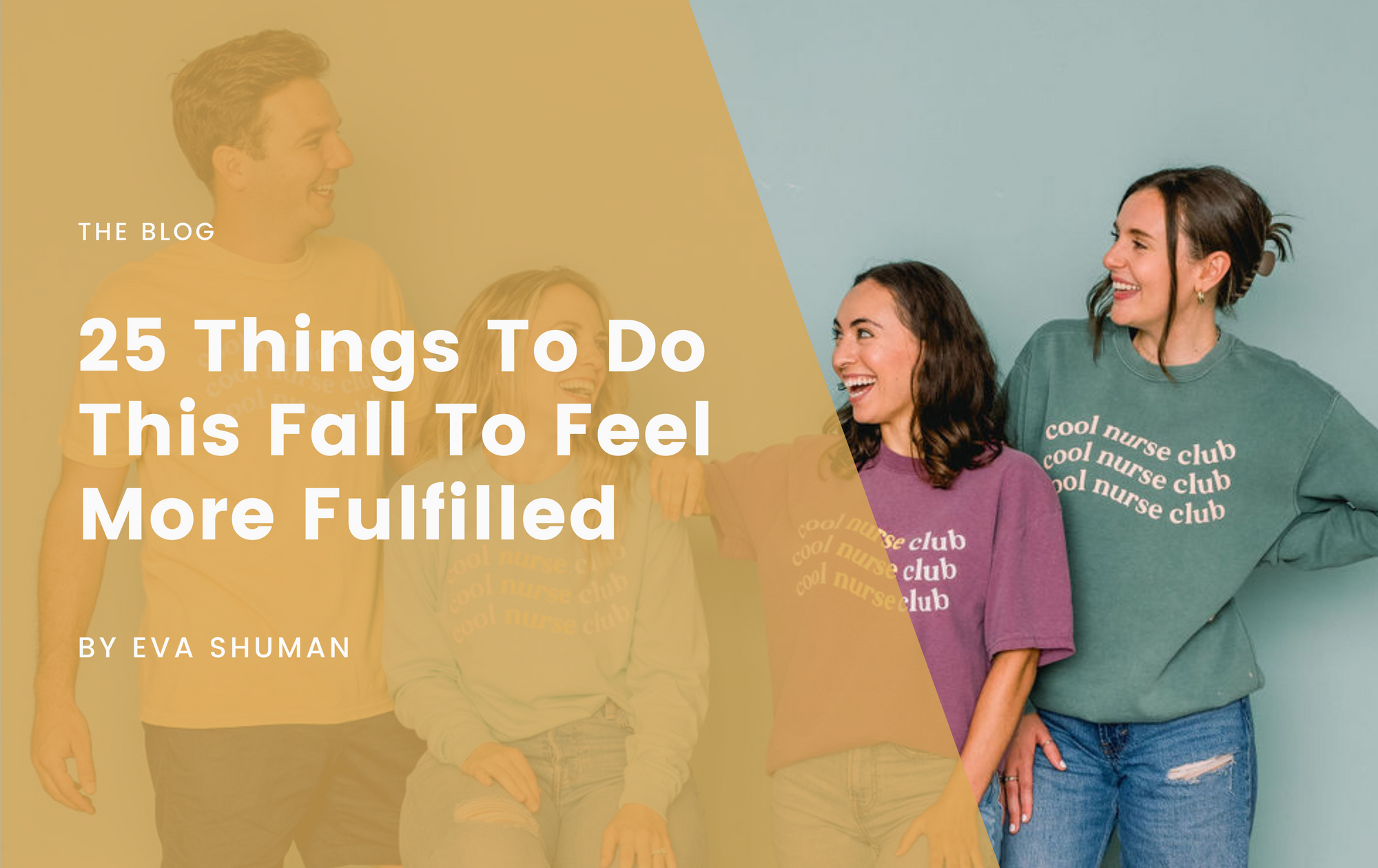 25 Things To Do This Fall To Feel More Fulfilled
Can you believe it's already October?! 
With all the fun fall vibes also comes more darkness and colder weather for a lot of us. We want to make sure you thrive this month and are ready to step into the holiday season feeling your best, so here are 25 things you can do this fall to feel more fulfilled ⬇
1. Take a minute to check in with your yearly goals that you wrote in the beginning of the year. It's not too late to work toward and even accomplish some of these. Let's finish strong 💪🏼
2. Make your coffee at home. Getting out of the rat race of buying coffee every day can help you slow down and take some intentional time for you.
3. Complete your monthly reflection + planning sheets. They're a resource that we created this year and we just made them free to download for the rest of the year!
4. Go thrifting. Adding something to your wardrobe always feels good, but there's something even more special about your new fit when you thrift it. 
5. Join a book club. Our friends over at Nurses Inspire Nurses have a free book club that meets once a month through the Nurse.com app. Check it out and join here. 
6. Decorate your front doorstep for Halloween! Go on Pinterest, get some inspo, grab some decor, and go crazy 🎃 
7. Clean out those summer clothes. We believe creating space in your physical world helps create space in your mind, so we suggest going through your clothing, getting those summer clothes in storage and creating a pile for donation
8. Donate clothing. Not only does it feel good to clear your space and make room for new, but contributing to the community by donating items makes the experience a double win. 
9. Start a quick journaling practice to help slow down and bring some intention to your day. Our favorites if you're looking for a quick, guided journal are the start today journal or the five minute journal practice.
10. We recently found Broma Bakery and want to try every recipe! Even if you aren't a baker (trust us, we aren't either!) trying a new recipe brings some spice to your life you didn't know you needed.
11. Get festive and hand out Halloween candy. Something about being child-like again and being part of the community makes our hearts so full.
12. Light more candles. We've recently had a candle burning most of the day and it creates such a peaceful fall atmosphere. It's the little things, ya know? 
13. Make your bed. Our day starts in the morning (if you didn't know 😋) and starting this practice can set your whole day in a different direction. 
14. Set up check in's with your loved ones. It can be so hard to stay connected, even with the people we want to be connected with most. Set yourself up for success by creating reminders (think an alarm on your phone or stars in your planner) to check in with your people.
15. Try a new work out class. This year we started going to barre and now it's safe to say we're addicted. We'd never tried it before and stepping out of our comfort zone to go for the first time was tough but worth it. Needless to say...try a new way of moving your body this fall!
16. Get a house plant. There's something about taking care of something else that is so rewarding. Plant mommas unite 🌱
17. Change up your phone background. I mean we only look at our phone screen 9840 times a day, right?! Might as well make it a vibe! We'll be sharing some new phone backgrounds this month, so stay tuned.
18. Change up your route and soak it in. Getting out of your routine can give you a new perspective and an opportunity to enjoy something new. 
19. Find a local Halloween event or fall festival. Again - community, community, community and chance to shake things up!
20. Get into a new book. If book club isn't your thing, there's still so much value in reading. We just flew through Never Lie and it was SO GOOD. Highly recommend this thriller! 
21. Clean up the virtual clutter. Help clear your mind by deleting all of those extra emails, your Google Drive that's been on 98% full for the past few months, and apps you never use. 
22. Take a social media detox. You could detox every Wednesday for a mid-week refresh, every weekend, or take full week off and come back grounded. 
23. Go out to eat alone. Whether this is a weekly occurrence for you or way out of your comfort zone, there's something about this experience that makes us believe everyone should do it. Give it a try and let us know how it goes. 
24. Enjoy the leaves. Take a drive with nowhere to go and no destination except for enjoying the beauty of nature this season 🍂
25. Whether it's playing fetch or extra long walks, spend some extra time outside with your pup! (thanks to Ashley from our community for this one!) 
We'll be dropping a blog post every Wednesday this month to bring on the good vibes! Let us know below which of these was your fav or what topics you want to see covered this month.