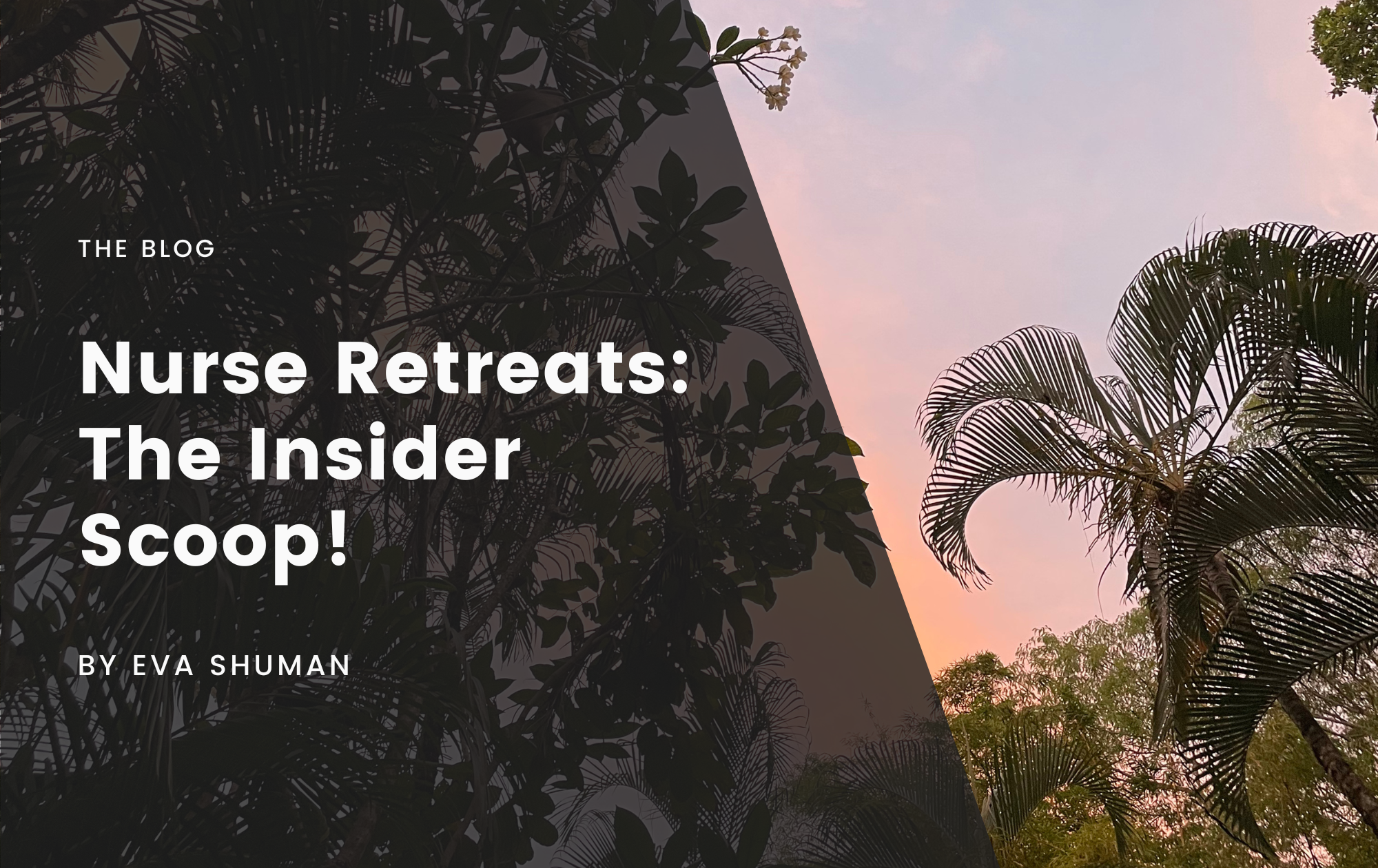 Nurse Retreats: The Insider Scoop!
So what is it really like going on a trip to a foreign country with a bunch of strangers you've never met who all happen to be nurses for a full week?
Well, I've done it twice now and am here to drop the inside scoop for you in case you're considering doing something like this. 
Remember last week when we said you might not feel fulfilled in nursing because you're lacking community? This is the #1 thing we would recommend to help you feel part of the nursing community in a deep and connected way. This experience was worth all of the time, energy and money spent on it. 
In both 2021 and 2022 I spent a week with twenty other nurses in Costa Rica on a retreat run by Lacey and Brit from The Empowered Nurse community. When I tell you this was truly a soulful, rejuvenating experience I'm not exaggerating! As much as I'd love to share every detail of what we did, I'll start with some concerns I had and then share few of my favorite things from the trip. 
A few concerns I had: 
- Can I show up by myself? Is that weird? 
I knew if I went on this trip, I'd be showing up me, myself, and I. Naturally I was nervous that everyone else would have brought a friend or group of coworkers, but I was pleasantly surprised because almost everyone showed up solo. This was comforting because not only was I not the only one to come alone, but the fact that everyone was in the same boat made connecting with people so much easier! 
- What if I don't connect with people? 
Let's keep it real. The unknown was a bit intimidating for me. I couldn't help but worry and wonder...what if the vibes are way off? What if I don't find anyone who I connect with? What if it ends up being awkward af? 
Looking back these were silly fears. I was putting myself in an environment where everyone already understood me on some level because of our shared careers. I was putting myself in a situation where everyone else also wanted to unwind, connect and explore. This wasn't even a thought after the first day of being there, but had to mention it because it's often the thing that holds a lot of people back from pulling the trigger on a big trip like this! 
- What if I want my alone time? 
Everyone is different, but I'm personally an introvert and recharge through my alone time. The thought of being bombarded by people and experiences constantly was overwhelming because I knew that just wasn't my vibe. Luckily the way this trip was set up was through the lens of self care, so we were given the opportunity to create our own experience within the experience. 
There was tons (and I'm talking tons) of excursions, yoga classes, and add ons you could choose to partake in if that's your vibe, but you were also fully free to do your own thing or take a solo day by the pool too. The freedom of choice was one of my favorite things about the experience to be honest. 
A few things that stood out to me as exceptional + different: 
- The food
I still sit at home and think about the meals from these retreats. When you hear "family style buffet", you just straight up aren't getting the right image of what the food is like on these trips. This family style buffet in the best way.
Everything is locally sourced, the food is fresh, and the recipes are out of this world. Both of the years I went everyone raved about the food and I never heard a single complaint. Chefs kiss, 10/10, whatever you want to call it, the food was unreal. 
- The self discovery
When I thought of "vacationing with nurses" what came to mind was exploring a new country, hanging with sloths, and meeting new people, so it was a little shocking when I realized I was going to get a lot more than that. This retreat is set up with your personal growth in mind and it shows. There were plenty of tears shed, opening up and solo journaling moments. It was obvious by the end how much every person grew on their own personal journey. 

- The community and connection 
Like I said before, one of the bigger fears I had was not connecting or feeling awkward during the experience. Little did I know that there is something special that gets unlocked when you do something like this with a group of other nurses. 
There's a unique kind of opening up and healing that happens between nurses when you're away from work and strictly focusing on your self care and feeling good. I've met some of the best people who I'm still connected with through the retreat and I couldn't be more grateful! 
I can't speak to every nurse retreat out there, but this one specifically was amazing and definitely gave me faith in all of the nurse retreats out there. We would 100% recommend taking a leap on something like this because the community was magical and it really felt like a vacation where you get home and feel refreshed (not like you need another vacation from the vacation 😋) 
And let's be real - you don't go on a trip twice if it wasn't good the first time! 
Right now we don't offer group trips through Purpose People, but wanted to share this resource with you because other nurses do and we think you should take advantage. 
If you're interested in this specific retreat, it's happening again in spring of 2023 and The Empowered Nurse community was kind enough to give the Purpose People community a discount. Use code EVA100 for $100 off and check out all the info for the trip here.  
Feel free to comment below asking any questions. Always happy to answer! 
xo, Eva
founder of Purpose People